Frequently Asked Questions
Frequently asked Questions
Here are our most asked questions that will help you decide what to purchase and how?
1/ Can multiple awnings be connected together?
Yes - Most of our canopies and be connected together to make the canopy as long as is required.
The canopies that can connect together are Byron Awnings, Frazer 600, 1000 & 1200 Series, Hamilton Series, Stradbroke Series, Hawthorn Series and the Coolum Series.


2/ Can the awning be trimmed down to meet a specific size?
Yes - The width of our awnings can be trimmed down to size. Please review our instruction "video here".
3/ Are the canopies easy to assemble?
Yes, our canopies are easy to install for any beginner handymen and woman all products come with assembly instructions. For information on how to assemble please visit our Installation page. "Click Here"
4/ How much does shipping cost?
Shipping costs will vary depending on your location and how many canopies you purchase. To check your shipping cost please look for the "Shipping" button below each product. Click this link then insert your state, postcode and location. Your shipping cost will then be shown for that product. As shown below.



For shipping costs for multiple canopies can be seen in the product screen as shown below.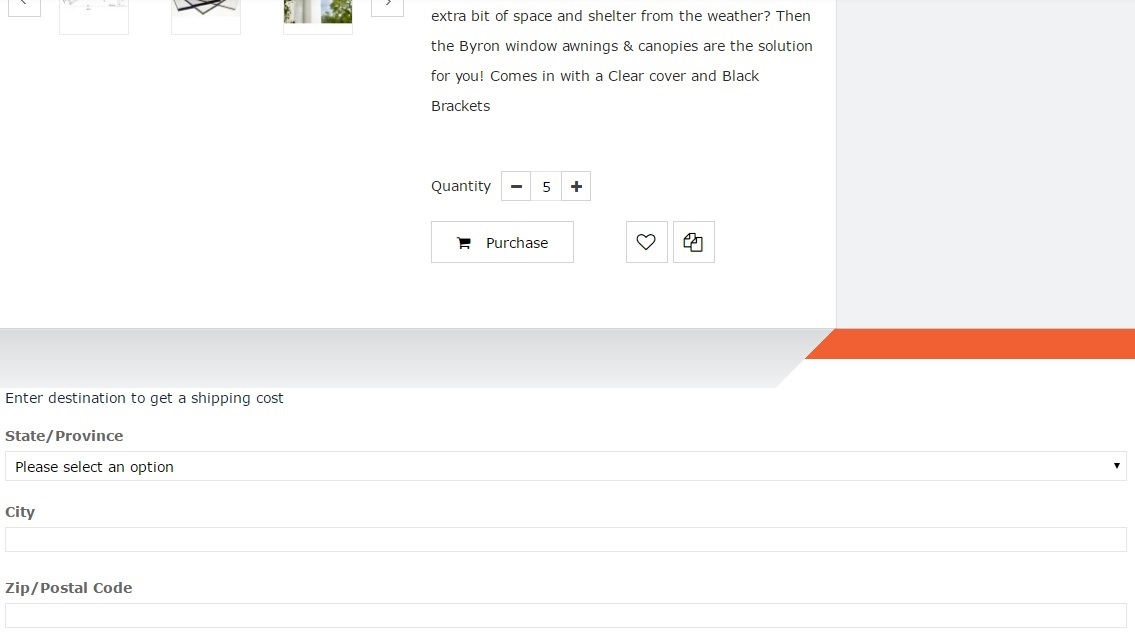 5/ Can I pick up from Canopy4u's warehouse?
Unfortunately our warehouse is not open to the public. All orders must be delivered..
6/ Where is Canopy4u located?
Out head office is located just outside Byron Bay, NSW, Australia, and our warehouse facility is located in Brisbane Qld Australia.
7/ Do you have a show room I can visit?
We are an online company only therfore we do not have a showroom.
8/ Does Canopy4u you install?
While we don't install ourselves we can recommend a professional who does. For more information on how to assemble please visit our installation page. "Click Here"
9/ Does Canopy4u do onsite quotes?
No, we are an online company only. However, if you do require a quote from one or our recommend installers you can by visiting our Installation page. "Click Here"
10/ How do you seal polycarbonate awning against the wall?
The best way to seal the awning junction against the wall is to run a layer of "Roof and Gutter" silicon along the top of the canopy.
11/ Can you walk on polycarbonate sheets?
The short answer is No. While highly static and impact loads can be withstood by polycarbonate you cannot walk directly on polycarbonate covers. Doing so will void your warranty.
12/ How do you clean polycarbonate sheets?
In general dirt and dust can be cleaned with the hose. Moss can be removed from the surface of polycarbonate by gentle cleaning cloths and warm soapy water. Remember to rinse sheets well after using cleaning products. Please note it is recommended to keep Polycarbonate clean of dust at any time by using a hose to increase the service life of polycarbonate.
13/ What is the life span of the polycarbonate sheet?
Solid Premium sheets have a lifespan of 10 years or more, while Sunsheet polycarbonate sheets have a life span of 3 years or more. This covers our warranty but the industry standards for polycarbonate sheet products through their life is usually much longer. Actual performance does depend on environmental factors, but its fair to say 20 years or longer is common for polycarbonate awnings.
14/ Will the awnings with-stand wind?
This all depends on the surface the canopy is attached to. Canopies attached to brick & masonry will withstand 99% of storms, however, for canopy usage within any cyclonic region, we suggest installing the Byron series. Retractable awnings are not designed to withstand strong winds.
15/ Refund Policy?
Items sold by Canopy4u are brand new and are good quality, however, if the item is received faulty the buyer needs to contact us within 7 days of purchase. If required the item may need to be returned (AT BUYERS COST) for checking or for a replacement. REFUNDS ARE ONLY ALLOWED FOR FAULTY OR INCORRECT ITEMS that are no longer in stock or can no longer be replaced. If the item is found to be faulty Canopy4u will refund the returning cost and post out a replacement item. REFUNDS ARE NOT POSSIBLE for items incorrectly purchased.
If for some reason you are missing parts contact us by "Clicking Here" with the parts that are missing and they will be sent out straight away.
There are no products matching the selection.